A VIP Experience from Start to Finish
The Resort
The Grand America is located in the heart of Salt Lake City, with breathtaking views of downtown and the Wasatch Mountains – the perfect backdrop for absorbing our insightful education program and connecting with peers.
Preferred Rate
► $369 per night
► Expires Friday, April 5, 2024
Book Your Room
► Online
►Call (800) 437-5288 and reference LTC 100
We have NOT contracted with any organization to handle LTC 100 reservations, nor have we shared any of your information with a external company. Any contact you may receive implying so is fraudulent. Please reserve your room directly through the hotel.
The Grand America Hotel, 555 South Main Street, Salt Lake City, UT 84111
Getting There

Recommended Airport
► Salt Lake City International Airport (SCL): 10 minute drive; 7 miles
Complimentary Car Service
Attendees traveling via Salt Lake City International Airport will receive complimentary, pre-arranged car service:
► Saturday, May 4 & Sunday, May 5 (arrivals)
► Wednesday, May 8 (departures)
Attendees will receive an email in the Fall with instructions for reserving car service.
---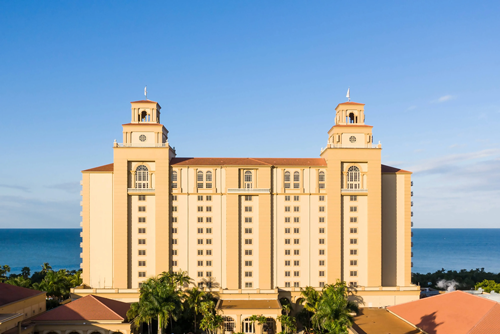 Save the Date for 2025:
May 18-21
Ritz-Carlton Naples Beach Resort
Florida
A celebrated and iconic resort, the newly transformed Ritz-Carlton Naples Beach will truly delight you with its newly transformed property and extraordinary ocean views.
---